Skip to end of metadata
Go to start of metadata
Welcome to the Online Teaching Library!

 



---
ONLINE TEACHING BLOG
---
Join us for a teaching workshop!
In Spring 2018, we will be offering a series of workshops for online instructors.
Here's what's coming up in February:
Online Tools for Critiques (using the Notes tool for critiquing images and videos)
Teaching in your Online Office (learn how to use Adobe Connect to meet with your students in real time)
New Online Instructor Q&A

---
RETURN TO: Online Teaching Library | Blog

Language support for your online students
Do you have online students who could use some extra help with language and writing?
Many online classes include a Language & Writing Support topic. These topics are posted in classes that have been designated for English-language support, and they provide a space where a specialized language instructor can work directly with your students. This is a remarkable service that the Academy offers!
The problem is that students sometimes don't find the Language & Writing Support topic — and so don't use this service.
Here's how you can help to make sure that more of your students take advantage of language support:
Click the edit link next to the Language & Writing Support topic.

Show screenshot...
Set its module association to Module 1. This will make the topic appear in the Outline under Module 1, which makes it much easier for students to find.

Show screenshot...
Then edit the closing date of the topic and set it for the last day of the semester. This ensures that the topic will remain available to students for the full semester.

Show screenshot...
Then click submit, and you're done!
Now when you look at your Outline, you'll notice that the Language & Writing Support topic is listed with the Discussion Topics for Module 1.
Show screenshot...
Please Note: Support Instructors cannot make changes to topics in the classes they support. As the instructor, you must make these updates.
LEARN MORE
If you have students who are in danger of failing your class due to language-related difficulties, please contact Chantelle Ferguson, Director of Online Language Support, (ols@academyart.edu) to request that a support instructor be added to your class
Adding a module association is also a helpful way to make sure that new online students find the Welcome topic in your online class, along with any informational topics you post throughout the semester.
---
RETURN TO: Online Teaching Library | Blog

Are students actually reading your class policies?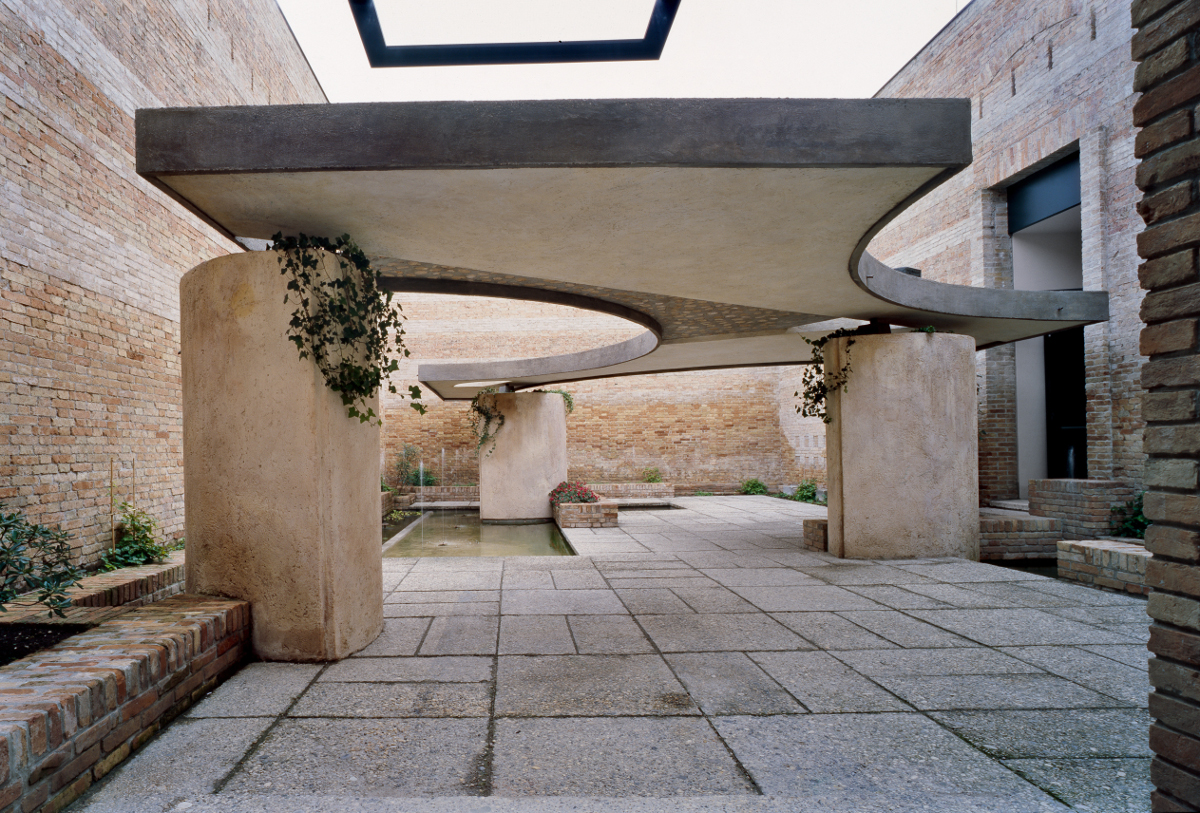 Carlo Scarpa's Italian pavilion courtyard, Biennale, Venice 1951-52

Let's face it: it can be challenging to ensure that your whole class starts the semester on the same page — that everyone knows what you expect of them and how their work will be graded.
You've done your due diligence by formulating your class policies and posting them where students can't miss them. You've explained how you will handle late homework and what they should do in case of a personal crisis or natural disaster.

But, as the saying goes, you can lead a student to the policies but you can't make her read! So what to do?

Interior Architecture & Design instructor Mary Ferroggiaro has a tip. When she post her class policies, she adds an extra-credit task at the end of the list. It's a sneaky way to see if students are actually reading the policies. For example:

Whew!! You made it through the whole thing! I appreciate you taking the time to read the important information given in this information topic, and as a reward for your hard work, I will give extra credit points to every student who posts the following information within this topic: My favorite architect is Carlo Scarpa. Tell me: 1) Where is he from? 2) Name one of his notable projects. 3) Attach an image of the notable project that you named.

LEARN MORE
---
---
#
Teaching Library Overview
In this library, you will find a wide range of resources to support your work as an online instructor at the Academy of Art University, including:
supplemental teaching materials, including tutorials, checklists, cheat-sheets, sample files, and more.
Learn more about what's available here by watching our tutorial.
The Online Teaching Library will grow over time, so please check back often to see what's new here. 
Browse the Online Teaching Blog
Recently Updated
Show More
About Me




Jenny Michael
Associate Director, Instructional Review & Improvement
I've been training and supporting online teachers at the Academy since 2004. My focus is on ensuring the success of our online instructors, and my work overlaps with that of Faculty Development in many ways. I've developed numerous resources for online instructors, including trainings on Course Development and Teaching Online, workshops (online and in-person), along with this library of teaching materials. I also created and manage the online coaching program — and I'm an online instructor myself. (I developed and occasionally teach the online French class.)
I earned a Ph.D. in Folklore & Folklife from the University of Pennsylvania. My particular areas of interest are in traditional art and other aspects of material culture, including foodways, dress and adornment. I also hold a Master's degree from U.C. Berkeley and a B.A. from Stanford University. I have taught numerous courses in folklore, anthropology, American studies, and writing at various institutions, including the University of Pennsylvania, University of Delaware, Drexel University, Indiana University, University of San Francisco, and U.C. Berkeley.
Want to get in touch with me? Here's how:
Overview
Content Tools
Activity